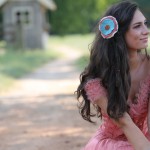 Story Of A Country Girl.
Katie Belle is a 16 year old Country Singer/Songwriter and Musician born and raised in Atlanta, Georgia.  Music has been a focal part of her life since her early years,  "Music in its entirety has influenced me as far back as I can remember!  The compositions, lyrics, instruments and how they are used in a song."   With a wide range of musical influences, "I'm constantly listening to music.  From the classics like Glen Campbell, Roberta Flack and Dolly Parton, to modern music including Keith Urban, Ed Sheeran, Taylor Swift and Carrie Underwood.  I'm inspired by every type of music there is.  I am not trying to copy anyone, it all connects with me and you will find music on my playlist from Cage The Elephant to Drake to Bob Dylan.  I never get tired of listening!" 
Perfecting her craft for the past 5 years, Katie is a talented pianist and can play by ear.  She's also learning guitar and mandolin to further expand her repertoire. Talking about her own musical style, Katie says "I developed my music by surrounding myself in it, finding what I like and what feels like me.  Plus, I'm from Georgia; they say it's in the water!  But truly my country roots play a big part in my relationship with music and interpreting country in a modern style."  She also believes she's got something different to offer.  "I want to represent someone on the younger side who relates to the younger audience through to the early adult stage. Someone who is growing up in the 'age of social media' and the knows first-hand what being a teenager in 2016 is all about."
At the tender age of sixteen she's got a wise head on her shoulders and appreciates the fickle nature of the entertainment industry.  "I am more excited than ever to be preparing for the release of my 'American Wild' EP.  I also understand the importance of being diverse in the Entertainment Industry so I love the experience of learning new things.  I'm keen to learn more about the business aspects of the industry as well as other areas such as fashion design, modelling, hosting as well as developing my songwriting and possibly even mentoring others."  She's also well aware of the ongoing debate about women in industry and when it comes to the music industry she simple says "Women can do anything men can do in music but we can do it in high heels!"
Katie has achieved much already including winning the Female Country Artist Award at both "Women In Charge" Radio Awards and the International Music and Entertainment Awards (IMEA) last year.  Plus her unique cover version of One Republic's monster hit 'Counting Stars' caught the attention of the Beat100 community and was soon #1 on their worldwide song chart. She's also had one of her original tracks selected for bullying awareness charity 'Rachel's Charity' which then led to Katie headlining the Teen Nation Tour in the US.   A personal highlight was her work with Christmas4Kids, which has seen her hosting for the last three years.  Being on stage and performing live with country legend Keith Urban is another massive highlight for the rising star.
This summer she will release her new EP, 'American Wild', a collection of tracks that she co-wrote with Nashville based songwriter and producer Kipp Williams.  She says of the record that it's autobiographical, "The EP is trying to reveal to everyone a taste of who I am, where I come from as a person and as an artist.  My songs have a positive vibe, upbeat spirit and I've put a lot of time and emotion into them.  I can't wait for people to hear them!"  She loves the idea that music can take the listener to 'somewhere' or evoke a memory.  "I love romance and I tend to write on the more positive of stories and that is a theme of the empowering nature of my songs.  I take inspiration from my own experiences and the life around me."
That life around her includes a strong family that have always been an important part of Katie's life with her mum, dad, brother, aunt and uncle amongst her biggest influences.  Katie also cites her now deceased Grandma as one of her biggest supporters, "she always believed in me from the time I was in primary school." She continues "A special shout out to my mom;  she's one of the smartest, most loving humans I know and she's taught me manners, respect, humility and the power of being honest and proud of who I am."
When she's not working on her music, Katie is like most other teenage girls;  catching up with friends, shopping, watching Netflix, snapchatting and taking her dog for walks.  One hobby that's might not fit immediately with the southern belle image is that she's a keen kick boxer.
Katie Belle is a formidable talent;  singer, songwriter and accomplished performer, she's now gearing up to the release of her brand new EP 'American Wild' this summer.
Go a little 'American Wild' for Katie Belle!
EP coming Summer 2016…