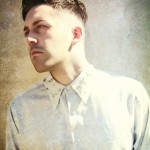 Leland's debut single "Aware" has been making waves ever since taste-making program We Found New Music discovered the track back in July. Soon, the cut began racking up the spins on Soundcloud (over 80,000 to date), drawing notice on Hype Machine and garnering plays on influential Los Angeles radio station KCRW.
Leland's (real name: Brett McLaughlin) friends John Aprea and Susan Burnham star in the video, which was partially shot at the Hollywood lounge The Three Clubs. Leland met Aprea through Rufus Wainwright and Cherry Vanilla, while he randomly befriended Burnham after she struck up a conversation with him at a "She ended up being hilarious," Leland says, "and we talked in the office supplies aisle … for about forty-five minutes."  Leland is currently working on his debut EP, and is also writing with Troye Sivan for the latter's first full-length album.
Live Nation's "Ones To Watch" Exclusive 'Behind the Scenes of the "AWARE" video'  piece
Achievements 
1) Celebrity Tweets – Tweets from Tyler Oakley, Troye Sivan, Kat Graham, RuPaul, ASCAP, Sony/ATV, Billboard
2)  Charts – #1 on Billboard's Emerging Artist Chart
3)  #1 on Hype Machine
4)  Billboard Screenshot of "AWARE"  Video Premier Article and on 
Billboard.com
 Home Page Screenshot.
5) Screen shot of Tyler Oakley Playing "AWARE" when he guest DJ'd on Slacker Radio
6)  Reviews by HillyDilly, KickKickSnare, FreeBikeValet, and TheNewLofi
7)  Radio DJ Tweets – "We Found New Music" KX93.5FM, Jason Kramer's Music Show, KCRW 92.5, SeaFM (Australia)
8) Vh1 Promo, Live Nation Ones To Watch Feature, and ASCAP Feature Article
Song Writer Cuts
LELAND just finished writing for Troye Sivan who's coming out with an album on Capitol, Britt Nicole (Capitol), Allie X (Kemosabe/Universal), Cee-Lo (Atlantic), Rufus Wainwright and got some other things lined up.  Also being featured on Kat Graham's next single called "Secrets" which he wrote for her.
Twitter: http://twitter.com/LelandOfficial
Soundcloud: http://soundcloud.com/LelandOfficial
Instagram: http://instagram.com/LelandOfficial 
Facebook: http://facebook.com/LelandOfficial  
iTunes Download Link: https://itunes.apple.com/us/album/aware-single/id937299766