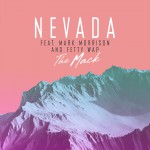 INTRODUCING NEVADA
                            GLOBAL ARTIST / PRODUCER / SINGER-SONGWRITER 
NEVADA, a talented musician, DJ/Producer and songwriter from Washington DC whose worked with global artists like Fetty Wap, Mark Morrison, Liam Payne (Strip That Down), Nana Rogues (Passionfruit) and many more.  His recent releases include debut Top 20 hit single "The Mack – ft. Fetty Wap & Mark Morrison", which has sold over 2 million records, whilst amassing over 300 million streams worldwide.  NEVADA has also produced remixes for Ed Sheeran's hit single "Castle On The Hill", lead remix for Liam Payne's debut solo single "Strip That Down" , Charli XCX's  new single "BOYS" and most recently co-produced Anne-Marie's new single "Heavy".  
The 26 year old talent, started off his musical journey in Nashville, Tennessee, after 4 years cutting his teeth producing and writing records for some of the biggest christian, church and country artists.  With Chicago and ATL not far away he soon grew a love for Hip Hop/Trap and was influenced by the House movements which developed a passion for electronic pop music, from there he evolved into a rare breed of artist – one who writes and produces on all his material whilst incorporating multiple genres and sonics in his productions.
Nevada takes elements from electronic pop, afro beats, trap and acoustic instrumentation along with his finely tuned song-writing skills to create a sound which is instantly recognisable and refreshingly unique..  With a collection of massive tracks ready to unleash, he sends a strong opening statement of things to come from this exciting new artist, the rise of Nevada starts now.
 SINGLE
Nevada ft Fetty Wap & Mark Morrsion – The Mack
https://open.spotify.com/track/7aV2mflaASUmGhCErm7kBO?si=kqVMXtRMSyW9W-CSmRiVgg 
REMIXE'S
Ed Sheeran's single "Castle On The Hill"
https://soundcloud.com/nevadamusicofficial/ed-sheeran-castle-on-the-hill-nevada-remix
Liam Payne's debut single "Strip That Down" 
https://open.spotify.com/track/4KYD3RjwErvhpGxudM6D1E 
Charli XCX's  new single "BOYS". 
https://open.spotify.com/track/7jAz9jcAuBsRxbnUueww9z
SOCIAL'S
T: https://twitter.com/NevadaMusic
F: https://www.facebook.com/NevadaMusic
VEVO: https://www.youtube.com/user/NevadaMusicVEVO
IG: https://www.instagram.com/NevadaMusic