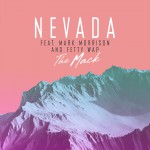 "Nevada is a Stockholm-based American artist, DJ, producer and songwriter. Having spent his formative years perfecting his skills in Nashville, Tennessee, the 26-year-old became influenced by the House and Hip Hop/Trap scenes and developed a passion for electronic music. From there, he evolved into a rare breed of artist – one who writes and produces all his own material. Nevada combines elements from electronic pop, afrobeats, trap and acoustic instrumentation along with his finely tuned song-writing skills to create a sound which is instantly accessible and refreshingly unique. 
In 2016 Nevada climbed the charts with his debut single 'The Mack', on it's 20th-anniversary the deep house rework of English R&B artist Mark Morrison's 1996 hit featured Mark Morrison and special guest Fetty Wap on vocals. The track has since amassed over 310 million streams globally and climbed the Top-20 charts in multiple countries. Following the success of 'The Mack' and his official remixes of several high profile artists, such as Ed Sheeran, Liam Payne and Charli XCX, Nevada has become one of the most exciting artists to watch in 2018."   Nevada is now gearing up to release his much anticipated second single called "Don't Call Me" featuring Loote on the ……. 2018. 
Nevada ft Fetty Wap & Mark Morrsion – The Mack
https://open.spotify.com/track/7aV2mflaASUmGhCErm7kBO?si=kqVMXtRMSyW9W-CSmRiVgg 
REMIXE'S
Ed Sheeran's single "Castle On The Hill"
https://soundcloud.com/nevadamusicofficial/ed-sheeran-castle-on-the-hill-nevada-remix
Liam Payne's debut single "Strip That Down" 
https://open.spotify.com/track/4KYD3RjwErvhpGxudM6D1E 
Charli XCX's  new single "BOYS". 
https://open.spotify.com/track/7jAz9jcAuBsRxbnUueww9z
SOCIAL'S
T: https://twitter.com/NevadaMusic
F: https://www.facebook.com/NevadaMusic
VEVO: https://www.youtube.com/user/NevadaMusicVEVO
IG: https://www.instagram.com/NevadaMusic