Temara Melek The Story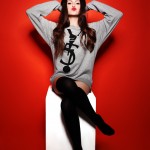 Temara started at the tender age of 4 years old  she did her  1st pageant,  when she reached 7  years old Temara was recruited  into the Hollywood  competitive dance teams in which she went on to  learn hip-hop, tap,  lyrical, breaking, ballet, modern,  belly dance,  musical theatre and jazz,  she achieve  scholarships for jazz and hip-  hop at the well-  known dance  conventions JUMP and NUVO.  It  doesn't stop there, Temara also won  her "Loveland's Got Talent" and  performed in the "Orange Bowl" half time show with choreographer 'Shane Sparks' (You Got Served and America's Best Dance Crew).  At 9 years old she landed a role as Veruca Salt from Willy Wonka singing "I Want It Now", and won 1st place in the state competition, in which she took that same performance to Vegas in an International Competition and took home the Las Vegas "Best Character Vocal" award.  As an actress she has starred in several TV commercials, Disney feature, films and TV shows, as well as starred in DVD's for Sing & Play Christian videos. You can also catch her in several print advertising campaigns for companies such as NFLshop.com (Just extended deal to 2014), Junkfood Clothing, HP Cameras and Wet Seal (New deal 2013/2014). Temara has a natural passion for charity, she started her own organization in 2007 called "Little Wishes and Big Dreams". She has since donated over $95,000 in monies as well as goods to children and animal charities all over the world. She is involved with UNICEF, Realities for Children, ASPCA, Greenpeace, Christian Children's Fund, American Cancer Society and LA Mission and is due to perform at the Beverly Hills UNICEF concert in April 2014.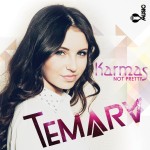 In 2012 Temara was discovered by Label Head Dani Stephenson when he found a Cher Lloyd cover Melek uploaded to YouTube and was soon snapped up and signed to Straight Forward Music Group and Tap Tempo Studios on a development/production deal.   The teen sensation started to take her singing  seriously at 13 when  she  did a music video  featuring Justin Biebers best friend Christian  Beadles  which amassed over 2 million views on  youtube and was the  start of her  growing fanbase.  Temara co-wrote her newest release  "Karma's Not  Pretty" with friend Cassadee Pope the former lead  singer of Hey  Monday and the winner of The Voice  2012, which  achieved #8 in the  MTV Most Watch Music Video charts, and Top #10 in the VIVA online charts and got rave reviews from, OK! Magazine, MTV, The Independent,  Huffington Post, Teen Mag, Girl Talk and The Hits Radio FM.  The music video has over 297,000 views on her VEVO channel which featured Keegan Allen and Gregg Sulkin from the award winning US TV show Pretty Little Liars.  Not only is she causing a stir online but,  Stephenson helped Melek begin her musical career with a bang – a well received live performance as Demi Lovato's Special Guest at her first live streamed concert this past October. Her impressive début has warranted comparisons to a "Teen Katy Perry" which Melek is truly humbled by. "Katy is a huge inspiration of mine and an idol. Her music is fun, positive, and true to herself which is something that I love and respect about her," reflects Melek. Along with Katy Perry, Melek also lists Miley Cyrus and Taylor Swift as personal favourites whom she'd love to have the opportunity to work with down the road.    Temara has been tipped as the one to watch for 2014/15 an exciting future lies ahead for this teen star!
VEVO – http://www.youtube.com/watch?v=hNFxqFcSTpc
Twitter – @The_TemaraMelek
Facebook – https://www.facebook.com/TemaraMelekOfficial
Editor-In-Chief: Jenny Rae-Lee